Variations on Clarke's Second Study Volume Three for trumpet by Rich Willey Two-Fer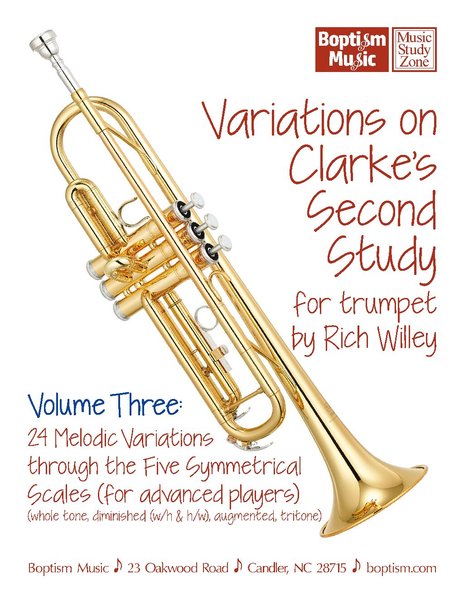 Variations on Clarke's Second Study Volume Three for trumpet by Rich Willey Two-Fer
Two-Fers: Buy the hard copy book and get the corresponding PDF for 25% more when you get them as Two-Fers!
Introducing Variations on Clarke's Second Study, Volume Three: 24 melodic variations through the Five Symmetrical Scales (whole tone, diminished [whole step/half step & half step/whole step], augmented, tritone), for trumpet, by Rich Willey.
Like Volumes One and Two, Volume Three is based on Herbert L. Clarke's classic Second Study. Systematically explore the five symmetrical scales in this volume, which are very important ingredients for jazz improvisation and modern classical composition. There are 24 permutations of the Second Study resulting in a full exploration of these five symmetrical scales, a grand total of 1440 studies in all.
Now you can gain massive amounts of musical knowledge while improving your technique. Each of the 24 Second Study variations is presented in all 12 keys and through these five symmetrical scales (Whole Tone, Diminished [whole step/half step & half step/whole step], Augmented and Tritone). 126 clearly presented pages of material to hone your technique, train your ears and stimulate the growth of your musicianship.
The text at the front of the book offers suggestions to help you find ways to get the most out of this book. Each page has suggested articulation patterns, and there are two pages of practice logs in the back of the book to help you record and keep track of your progress.
132 pages printed on high quality paper and GBC comb-bound to lay flat on your music stand, this beautifully engraved presentation (24 variations in 12 keys through 5 scales totals 1440 printed studies) is full of material just waiting to help you improve your playing and musicianship by leaps and bounds.
~~~~~~~~~~~~~~~~~~~~~~~~~~~~~~~~~~~~~~~~~~~~~~~~~~~~~~~~~~~~~~~~~
"What I did was to write exercises based on Herbert L. Clarke's Second Study (from his Technical Studies book) so I don't always have that same little melody running around in my head. I organized them into a 'logical' series starting with mostly scalar movement and gradually becoming more arpeggiated (wider intervals than a second).
"I came up with 24 such melodies. They appear in all 12 keys moving through the cycle of fourths (add a flat or subtract a sharp). I wrote each one of them so that they use all the notes of a standard scale (usually covering at least the full octave), and then I put them into the five 'symmetrical' scales, very important scales for jazz improvisation and modern classical composition.
"So you have 5 chapters of 24 variations of Second Study inspired melodies going through all 12 keys, a grand total of 1440 studies in all.
"Plus, there are suggested articulations at the bottom of each page.
"This way you can improve your technique while learning (I mean, *really* learning) all these scales in all the keys. You can play a different one every day and never get bored (but you'll keep on learning).
"This has turned out to be a great, systematic way to work on improving my jazz improvisation while continuing the seemingly never-ending chore of cleaning up my technique. My improvisation has steadily improved since I've started practicing out of this new book." — Rich Willey
~~~~~~~~~~~~~~~~~~~~~~~~~~~~~~~~~~~~~~~~~~~~~~~~~~~~~~~~~~~~~~~~~
Please allow up to 24 hours for email delivery of books ordered in PDF format. Thank you.