The Ultimate Collection of Jazz Duets Complete by Rich Willey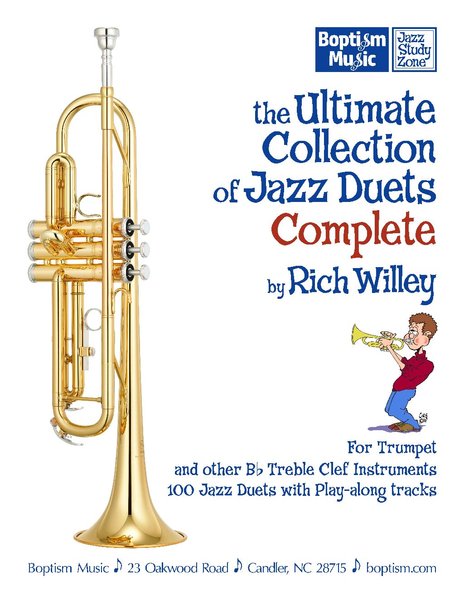 The Ultimate Collection of Jazz Duets Complete by Rich Willey
The Ultimate Collection of Jazz Duets starts fairly easy and gets progressively more difficult. The first twenty-four duets are written with younger players in mind and contain strong melodies, easy key signatures, relatively few eighth notes and few accidentals in a traditional jazz style of playing. Written on the chord progressions of traditional jazz favorites, they are excellent studies in syncopation and jazz sightreading. The remainder of the book contains seventy-six melodic bebop-style duets written over chord progressions of standards and jazz tunes. Excellent for intermediate to advanced players. Chord symbols above the notes help teach fundamentals of jazz improvisation. Students' sightreading skills will improve while they're having fun.
Your book comes with a page containing a link for you to easily download all the play-along files — two mp3 play-along tracks for each duet (a moderate tempo and a more ambitious tempo). Also included is the complete set of MIDI files for those who wish to modify the playback characteristics of the play-along tracks using programs such as Band In A Box, or Cakewalk, allowing any treble-clef instrument to use the play-along tracks with this book. Also, using some versions of Windows Media Player, MIDI tracks can be slowed down or sped up as desired.
Additionally, there are complete mp3 "mock-ups" of every duet for you to listen to; that is, the rhythm section track is combined with MIDI sounds of the melody lines. There are instructions included for making five audio CDs from all these mp3s as well as tips for using the book and play-along tracks for treble clef instruments other than those in B-flat.
These duets are written over the chord changes from the following standards:
• A Day In The Life Of A Fool • After You've Gone • Ain't Misbehavin' • Airegin • All God's Chillun Got Rhythm • All Of Me • All the Things You Are (2 ways) • Autumn Leaves • Baby Face • Battle Hymn of the Republic • Bill Bailey • Blue Bossa (2 ways) • Body & Soul • Bouncin' With Bud • Bourbon St. Parade • Bye, Bye Blackbird • Ceora • Cherokee • Confirmation • Contour • Do You Know What It Means To Miss New Orleans • Embraceable You • Everybody Loves My Baby • Five Foot Two, Eyes of Blue • Giant Steps • Gone With the Wind • Green Dolphin Street • Half Nelson • Have You Met Miss Jones? • Here's That Rainy Day • How High the Moon • I Love You • I Should Care • I Wish I Knew • I'm Getting Sentimental Over You • I'm In The Mood For Love • I'm Looking Over a Four Leaf Clover • If I Should Lose You • In a Mellow Tone • Indiana • It Could Happen To You • It's You Or No One • I've Found A New Baby • I've Got Rhythm • Jazz Me Blues • Joy Spring • Just A Closer Walk With Thee • Just Friends • Lazy Bird • Like Someone In Love • Margie • My Gal Sal • My Melancholy Baby • My Old Flame • My Romance • No Moon At All • Oh, Baby! • Old Folks • On The Sunny Side Of The Street • Out of Nowhere • Pennies From Heaven • Please Don't Talk About Me When I'm Gone • Recordame • 'Round Midnight • Slow Boat to China • Softly As In A Morning Sunrise • Solar • Somebody Else Is Taking My Place • Someday You'll Be Sorry • Sophisticated Lady • South • St. Thomas • Star Eyes • Stardust • Stella By Starlight • Stompin' at the Savoy • Sweet Georgia Brown • Take The "A" Train • Tangerine • The Girl From Ipanema • The Way You Look Tonight • There Is No Greater Love • There Will Never Be Another You • Time After Time • Tiny Capers • Triste (more or less) • Tune Up • Way Down Yonder in New Orleans • Well You Needn't • What Is This Thing Called Love? • When The Saints Go Marching In • When You're Smiling • Who's Sorry Now? • Willow Weep For Me • Woody 'n' You • Yardbird Suite • You Don't Know What Love Is
Titles in bold italic type (above) only available in the complete 200-page book.
Beautifully printed on high-quality paper and GBC comb-bound with protective mylar outer covers.
Originally offered in four smaller volumes (including the popular I'd Rather Be Boppin' series and Home Cookin'), our best-selling duet books have been combined to form this giant collection.
CLICK HERE to listen to sample clips on our Audio Samples page, and CLICK HERE to view PDF samples at our PDF Samples page.
Please allow up to 24 hours for email delivery of books ordered in PDF format. Thank you.